Last night, U.S.
Senator Daniel Inouye
from
Hawaii
came to
Portland
to stump for his friend Sho Dozono, who is running for Portland mayor. Sho Dozono owns one of the most successful travel agencies in the Portland area and is well known for his community work and philanthropy. He has the endorsement of the current mayor, Tom Potter, and since he has accepted public financing, he is running without fundraising dollars. His opponent is City Commissioner Sam Adams.
I was pretty surprised to learn that
Senator Inouye
was coming to town. Inouye is perhaps the most famous Asian American war hero from
WWII
, and possibly one of the most famous war heroes of all of WWII. Back in the days of
WWII
, prejudice against Japanese Americans ran rampant, and the political resistance against giving a
Medal of Honor
to a Japanese American was so strong that Inouye was passed over for the award, despite the fact that he had lost his right arm defending his country. Inouye has been serving in the
U.S. Senate
since 1962 and is currently the third most senior U.S. Senator.
You can see his story here:
He's also profiled in
Tom Brokaw
's "The Greatest Generation," which recounts the story of the firefight in which he lost his right arm. Basically, his arm was shattered by a German rifle-launched grenade as he was holding a grenade of his own.
He pried a third grenade from his right hand and threw it with his left. He continued to fire with his automatic weapon, covering the withdrawal of his men. Finally, he was knocked out of action by another bullet in the leg, but by then the German position was neutralized. Twenty-five Germans were dead, and Inouye took eight as prisoners of war. (The Greatest Generation; Tom Brokaw, ISBN 0-375-50202-5,pp. 353-354)
Inouye was an electrifying speaker last night, and it was a really excellent event--exciting and warm, and it only cost twenty-bucks! They had traditional Polynesian singers who brought the spirit of Hawaii to Portland, and Inouye did a great job of reaching out to everyone. He is a historical figure, and I was glad for the opportunity to hear him.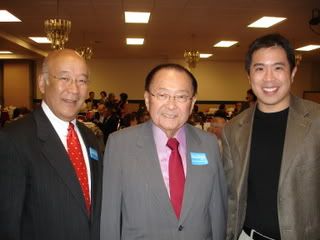 Sho Dozono, Sen. Daniel Inouye, and Jaehwan